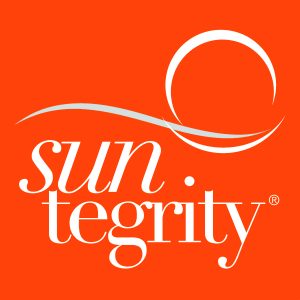 About Suntegrity
Suntegrity Face and Body SPF 30 products use only the best known physical block ingredient (non-nano size zinc oxide) to provide broad spectrum UVA/UVB protection and super anti-oxidants and amino acids to enhance that protection and help with skin repair. They use non-toxic preservatives to maintain their products' integrity without sacrificing safety or health. Suntegrity was awarded "Champion" Status by the EWG/Compact for Safe Cosmetics.

---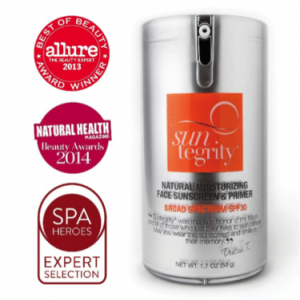 SUNTEGRITY NATURAL MOISTURIZING FACE SUNSCREEN & PRIMER
Top Rated Face Sunscreen by the EWG/Skin Deep Cosmetic Safety Database! Received a #1 Rating for "Best Moisturizer with SPF" in the EWG's 2010 – 2015 Sunscreen Guides.
A rich, non-greasy, "chem-free" face sunscreen that offers Broad Spectrum Protection against damaging UVA & UVB rays. Infused with youth promoting antioxidants and astaxanthin, this 3 in 1 product functions as a face moisturizer, sunscreen and makeup primer all in one. Red algae and Certified Organic: aloe vera, jojoba, sunflower, pomegranate, cucumber, and green tea provide the face with additional sun defense and hydration. Large doses of uncoated, non-nano zinc-oxide protect the skin while providing anti-inflammatory properties that help with rosacea, acne, and melasma. Carefully made for all skin types, it is: *Free of: Parabens, Phthalates, Propylene Glycol, Mineral Oils, Synthetic Dyes, Sulfates, Paba, Titanium Dioxide, Nano-Particles and Chemical UV Absorbers. – Vegan – Non-Greasy – Light, Uplifting Citrus Scent – Cruelty Free (PETA & Leaping Bunny Cert.)
*Juneberries Haven is an authorised retailer for Suntegrity.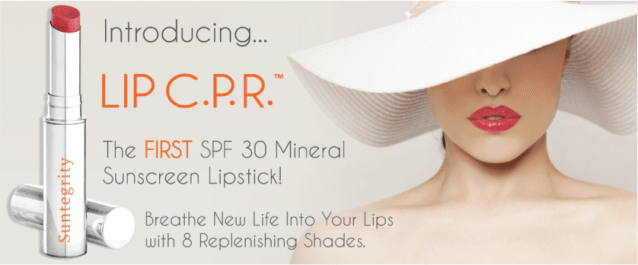 Try the first SPF 30 Mineral Sunscreen Lipstick. Available in Juneberries Haven at Thomson Plaza.

Different color lipsticks for different looks. Suntegrity natural ingredient put you at ease while still looking good.
---
A one-stop retail haven for all things we women need for ourselves and our family at every stage of our life.